Are you ready to…
⤐ Discover more about yourself, your talents and deepest purpose?
⤐ Feel inner peace and confidence when making decisions in your life?
⤐ Allow yourself to go with the flow while achieving your highest goals?
⤐ Connect deeply with your intuition to attract miracles?
⤐ Harmonize your life and shine your light to the fullest?
Become a Master Moon Manifester
in 13 moon cycles!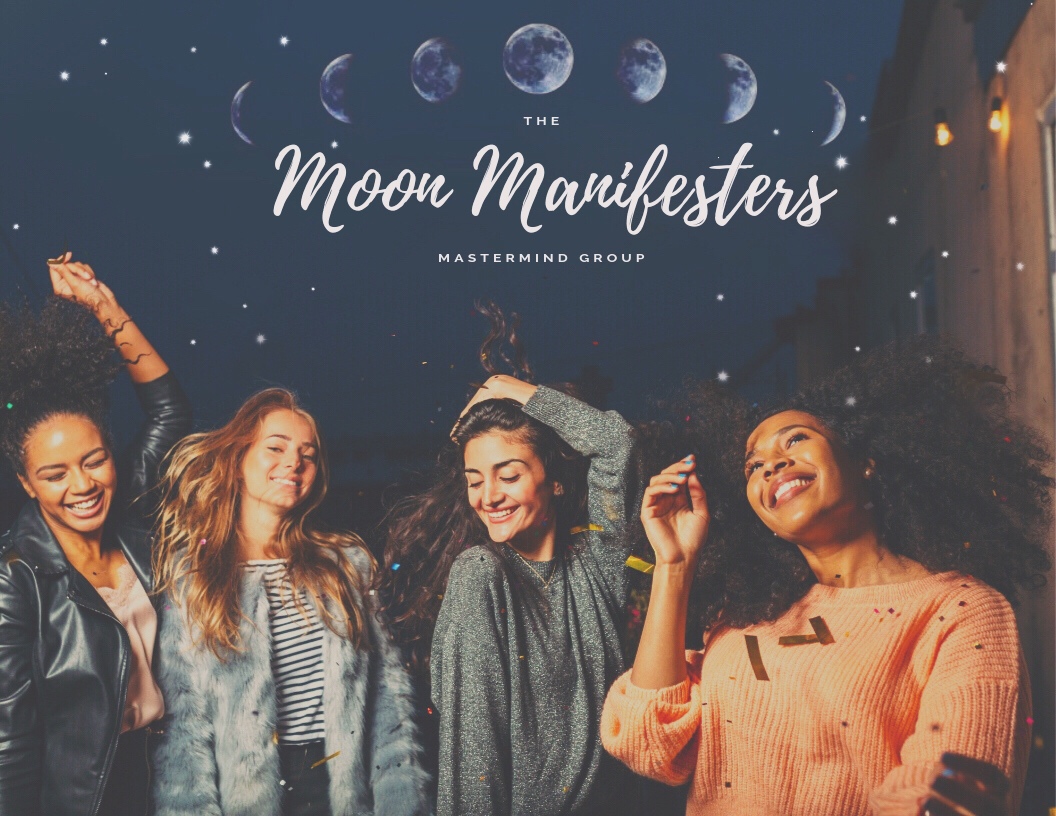 In this 1-Year Mastermind Group, you will:
⤐ Experience how to use the moon phases and cosmic transits to overcome obstacles, go with the flow of Life + manifest your dreams.
⤐ Learn how to read your natal chart - your energetic DNA - and the natal chart of your partner, parent, child, boss, friend, client, etc. while becoming aware of its effects in your reality.
⤐ Dive deeply into each astrological sign, house and planet to explore the unique aspects and gifts of your personality so you can use them for your Highest Good.
⤐ Receive tools on how to connect with your intuition, live your purpose + interpret the messages Life is giving you.
⤐ And last but not least:
Have fun while playing the Game of Life!
If you are a coach, therapist, or counselor looking for new ways to guide your clients,
this mastermind group may be exactly what you need to expand your practice and take your clients on a deep journey within.
When does it start?
The Moon Manifester Mastermind Group is currently in action.
Join the waiting list to get notified when the next one starts.


Deepen your Awareness + Raise your Consciousness
TO DISCOVER THE UNIVERSE WITHIN YOU.
Hanna Christensen is a self-taught professional astrologer (PMAFA), certified by the American Federation of Astrologers. She has successfully completed classes in Hypnosis at the HMI - College of Hypnotherapy and is a member of the American Hypnosis Association. She is trained as Energy Healer (Reiki/Holy Fire), as well as an Ordained Priestess. Since 2014, Hanna has been facilitating workshops and working one-on-one with clients as an Inner Peace Coach to support them in using their energetic DNA (natal chart) and the current cosmic energies to overcome obstacles, discover their deepest purpose, experience inner peace and manifest their dreams.
What makes this course special?

While there are many ways of learning astrology, I believe that the most efficient way is to stimulate both:
Intellect and Intuition
Receiving the knowledge + Experiencing it in one's life.
This is why in each bi-monthly zoom call (every other M(o)onday, 90min.), we stimulate our Intellect by discussing moon cycles and astrological influences, and connect to our Intuition by going on guided journeys within. Our first session will be 3 hours in order to lay a strong foundation for the upcoming months. After each call, there are simple action guides to complete in order for you to notice and work with the cosmic energies in your everyday life.
By making the course 13 moon cycles long, it allows time between each lesson to sink into your subconscious so that moon manifesting and astrology become a part of your life and soon second nature to you. This supports you in becoming unconsciously aware which is the highest form of competence.

I know that you have a busy life, so I have designed an Easy Elemental Astrology Workbook and a Moon Cycle Manifestation Planner to help you stay organized while going with the flow.
Also, no worries, if you can't make every zoom call. Each call will be recorded and you will be able to access it afterwards (even after the course is done, so you can always go back whenever you wish to refresh your memory!).
Throughout the 13 months, you will receive email support from me in case any questions come up for you that we weren't able to discuss during our calls. You will also have access to a private Facebook Group where you can connect with your fellow Moon Manifesters and where I will be active regularly with offerings and support for you.

By implementing these methods,
you will soon notice changes taking place:
Your Manifesting Life Force will be flowing easier, your Connection to Source will be growing deeper.



By the way:
There is no other course like this.
And I'm not saying this to brag.
The thing is:
My Method of Moon Manifesting and Astrology is unique.
It is a summary of many teachings combined into one simplistic and practical formula that has been working for me and my clients for years (and is a work in process btw).
As a self-taught astrologer I didn't have one particular astrology teacher or school that I attended (though I got certified by the American Federation of Astrologers).
I studied numerous books and articles, but most of my understanding of astrology (and life in general) I receive through meditation and channeling ascended masters, like Mary Magdalene and my Higher/Future Self Grace.
This is why I'm super excited for this course as well!
While I have an outline on what we will explore during these 13 months, most of its contents will be channeled and adjusted to what is needed for the Highest Good of all of us.
This means that you will be individually and collectively supported in understanding yourself and others on a deeper level and manifesting your dreams into reality.

So, now let's get to the big question:





Are you ready to transform + Fall deeply in love with your life?